This is just a quick update regarding our tremendous success at the Indianapolis Home Show. I am happy to report that we have visited with many new home buyers and they simply love the geothermal technology for which Precision Comfort Systems is known. Most  new home buyers attending the fair enter our booth with an undecided position and leave with some new HVAC specs for the builder of their new home.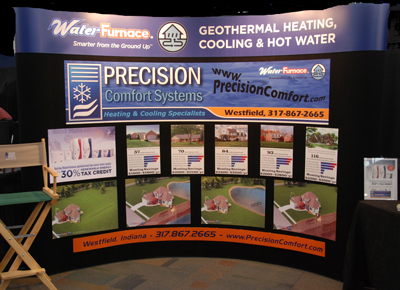 So heads up builders! Here is what you can expect. Your home buyers that have been to the Precision Comfort booth will be requesting a new geothermal heating and AC system for their new home as well as a suggestion that the system be installed by Precision Comfort. To the builders we have already worked with, we look forward to doing another Precision geothermal installation for our mutual customers.
To the builders that we have not yet met, we look forward to meeting you. Your home buyer was smart enough to seek out the most energy efficient new home heating and AC system available, and it is our opinion that they also found the most experienced geothermal heating contractor in Central Indiana. We look forward to meeting you and we are anxious to prove to you that our new home HVAC system design and installation is the best.
If you are building a new home, we encourage you to attend the Indianapolis Home Show (Dates from January 20 to 29) and find Precision Comfort Systems in booth 362. We can show you in just a few minutes why geothermal heating is your best choice for your new home.