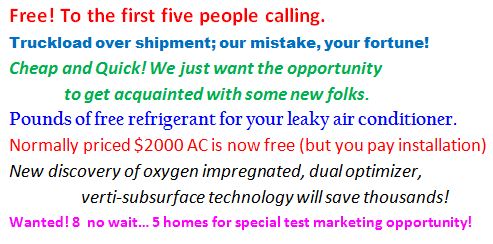 What's going on? Why do some Indianapolis AC service companies insult your intelligence with these gimmicks? Precision Comfort Systems thinks you deserve the truth about these "too-good-to-be-true" air conditioner service special offers.
We think you should know, Noblesville, Carmel, Westfield and Fishers Air Conditioning service companies are not really making a profit when they visit your home for a $29.95 air conditioner clean and check. In fact, some homeowners have discovered they paid this fee to simply become a target of an in-house sales presentation. Is your 10-year-old air conditioner really about to die? Or worse, is your furnace a safety threat to your family? How do you know the truth?
Precision Comfort Systems recommends getting a second opinion. Our experienced technicians each have many stories about inspecting a supposedly condemned furnace and finding nothing wrong. It's unfortunate, but there are some individuals who think that any furnace over a certain age is not reliable. These technicians (some who may be pressured with a sales quota) create just enough alarm to scare customers into a purchase that may not be needed.   Precision Comfort System has no charge for a second opinion. We have been to many homes in the Westfield, Noblesville, Fishers, Carmel and Zionsville area that did not really have a furnace about to blow up. You would be amazed at how many loyal customers we have acquired by simply giving them an honest answer. We would much rather impress you with our honesty than scare you into a sale.
Now let's have some fun with those ads and give you a little Precision Comfort insight into your junk mail offers:
Free! To the first five people. (The Precision free second opinion is really free. Our other products and services have a fair price. We find it's hard to pay the best technicians when we hand out free products.)
Truckload over shipment; our mistake, your fortune! (No one really brings in a truckload of anything anymore. Our distributors do most warehousing and they deliver to us every day as sales dictate.)
Cheap and Quick! (Precision Comfort Systems is more the "Fair and Precise" type. Our customers approve of our strategy wholeheartedly.)
Pounds of free refrigerant for your leaky air conditioner. (This is a great one and worthy of more detail. An air conditioner or heat pump should not be administered a compulsory, seasonal shot of refrigerant for good measure. Overcharging is as much a problem as under-charging a system. But what if your system is actually leaking? Shouldn't you call the company offering free refrigerant?  How better for a contractor to identify who needs a new air conditioner or heat pump? If your system is really leaking refrigerant, you likely need a new system, not more refrigerant.  They know this. What you need is an honest and precise analysis of your situation.)
AC is now free, you pay installation. (Do advertisers really think that smart customers fall for this?)
Thanks for your continued trust in Precision Comfort Systems.